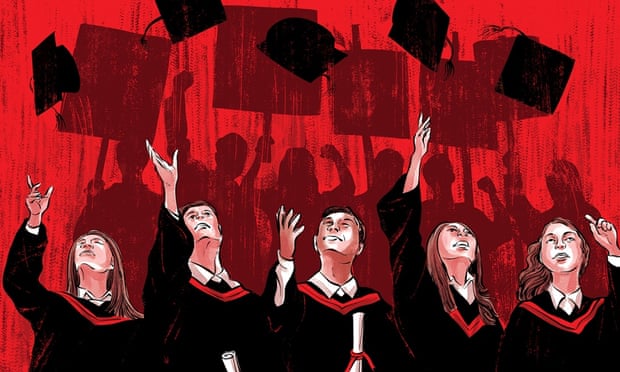 Nathan Hornes didn't think he'd still be working in fast food on his 25th birthday. He had a plan: he wanted to be a pop singer-songwriter and had moved from Missouri to Los Angeles after his 2008 high school graduation in order to become a star.
He never thought he would first be getting national press coverage as part of what may be the first organized student debt strike. But he and 14 other students, with the support of the Occupy Wall Street spinoff group The Debt Collective, are taking a stand and refusing to pay back the student loans they took out to attend the for-profit Corinthian colleges.
Corinthian is being dismantled and its students given debt relief on their private loans – the institution is under federal and state investigations and is the target of multiple lawsuits alleging predatory lending practices. But Hornes and the "Corinthian 15" are demanding relief for their federal student loans, too.
When Hornes moved to LA, he worked at Smashburger and Carl's Jr to pay the bills while he pursued his dream: performing at the Staples Center, participating in a web series, even releasing two songs on iTunes. But two years in, he says, his mother began to press him to go to college.
When he saw a commercial for Everest College, one of Corinthian's subsidiary schools, he was reminded that his cousin had attended an Everest school in Missouri. She'd made it sound pretty good, telling him Everest had a flexible schedule that allowed her to get a degree while working, and had promised her help with finding a job after graduation.
Read the rest at TheGuardian.com